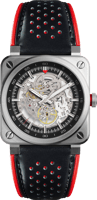 Introducing the latest timepiece collection available at Clarkson Jewelers. We're happy to announce our partnership with Bell & Ross. We are the only jeweler in the St. Louis Area to provide our clients access to this exciting and innovative brand.
Bell & Ross watches, with a strong foundation in the aviation industry, have a style and look all to themselves. This brand is extremely fashionable and unique, which is sure to grab attention. We encourage you to stop into the store and see these watches for yourself.
For additional information about this brand,
click here
or on the button below to visit our e-Boutique online. As always, for a personalized, one-on-one introduction to Bell & Ross, please use the form on this page and schedule a time to meet with one of our timepiece experts.